About Us
Scratch and Dent Appliance offers high end appliances at a huge discount. Our products carry a 3rd party, 1-year warranty (with the exception of microwaves which have a 90 day warranty). The 3rd Party Warranty covers everything a Manufacturer Warranty covers and Scratch and Dent Appliance would perform the repairs. A co-pay may apply.
Feel free to browse our inventory online and we always recommend visiting our store to see the appliances in person. We have fresh shipments coming in often, so our inventory is constantly changing.
This site is only used to list and provide details about our current in-store inventory. All purchases must be made at our store in Cedar Rapids. Currently we do not allow purchase of appliances thorough this website and we do not offer shipping or delivery outside of Eastern Iowa. Please contact us by email if you would like to arrange online payment and your own shipment of appliances outside of our delivery area.

We do not buy used appliances.
Delivery / Installation
We offer delivery within Eastern Iowa starting at $75 and going up with distance from Cedar Rapids. Delivery includes moving the appliance from our store to your door or garage. If you want the appliance moved into your home and/or installed, you will need to pay an additional set-up fee per appliance.
Set-up fees start at $25 per appliance. A set up fee of $50 is charged for refrigerators as it often involves removing and reinstalling refrigerator doors.
For liability reasons, self-hauling customers MUST have pickup or trailer to avoid damage and properly haul washers, dryers, refrigerator, upright freezer, and stoves.
If you want to haul any of these items in a van or SUV, the warranty on your item will be void and Scratch & Dent employees will not help you load the item.
Contact Information
Email: 
sales@scratchanddentcr.com
We are located:

1207 G Ave NE
Cedar Rapids, IA 52402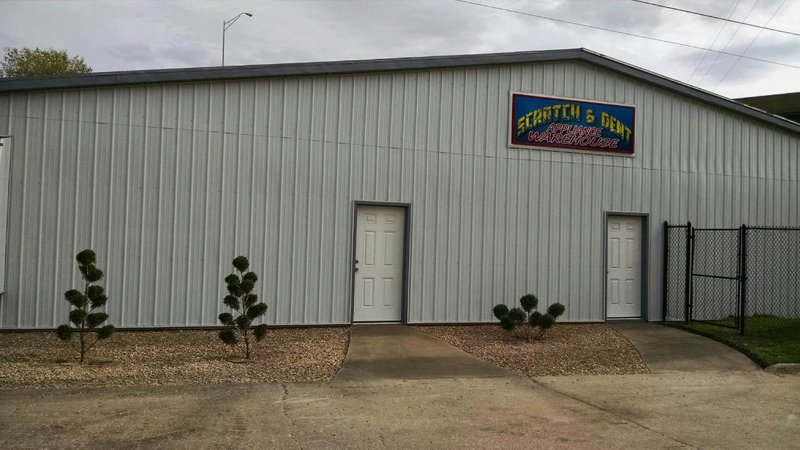 Scratch and Dent Appliance Warehouse
Refund Policy
-

         

Buyer is responsible for reviewing condition of items at time of purchase.



-

         

1 year 3rd Party W

arranty

from date of purchase on refrigerators, ranges, dishwashers, washers and dryers tagged with Scratch and Dent Appliance Warehouse stickers. Microwaves carry a 90 day repair (or replace) warranty.

-

         

Buyer is responsible for bringing items to the place of purchase for repair/replacement, unless the item was originally delivered by Scratch & Dent Appliance Warehouse.



-

         

If item is damaged beyond repair due to customer negligence, the warranty will be null and void.

-

         

Any items sold with Manufacturers 1 year warranty will be processed though the manufacturer. Scratch & Dent Appliance Warehouse is an LG, Samsung, GE, and Electrolux/Frigidaire Warranty service provider and can perform warranty services as needed.



-

         

Purchased items must be paid in full before leaving the building.



-

         

All items must be picked up within 7 calendar days, to avoid storage fees.



-

         

All items purchased, but not removed from place of purchase will be refunded in the manner it was paid for, but may be subject to a $50 restocking fee per item.

-

         

Buyer is responsible to make sure purchased items fit in their respective place of installation. In the instance that an item does not fit, and it has not been used, it can be exchanged within 24 hours of purchase for another model. If there is not a replacement that will work, the customer will be given a store credit only, and may be subject to a $50 restocking fee per item.

-

         

If an exchanged item was delivered by Scratch & Dent Appliance Warehouse and needs to be delivered again, additional delivery charges will apply.